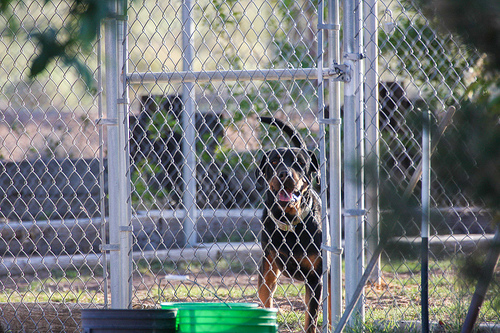 Looking for an appropriate boarding facility for your dog is similar to looking for a good veterinarian. If at all possible, you want to do the work before you actually need to. Boarding facilities are all different. There are in-home options, active open playground type kennels and enclosed ones that only allow your pet out 2-3x a day. You should find one that will most closely fit your pet's needs and your budget. As you are looking, there are a few things that you should consider both before and after you make a decision on a facility:
• All good facilities will ask you for proof of current vaccinations.
• Facilities should be clean, employees should be calm, clean and not harried and they should not be impatient with your questions.
• Family and friends are not always the best options. If untrained and unprepared, they can unintentionally make your pet sick by feeding him bad food, lose him (dogs can have a tendency to try to "find their way home") or be just leave you overall unsatisfied in the way they choose to care for your dog.
• Take a tour of the facility before making a commitment to leave your pet.
• If your dog has allergies or medications he needs, make sure to communicate this to the kennel ahead of time and ensure that they are trained to meet your pet's needs.
• You can bring your dog's food. Ask how they want you to split it up, whether that is in daily portions or just a bag for the entire time he is there.
• You should be able to bring a toy or blanket for your dog that he will be familiar with.
• The kennel should be able to reach you.
• Make sure that you drop off and pick up within the kennel's operating hours.
• If possible, bring your pet with you to the facility prior to his first stay. He will likely be less nervous the second time when you actually drop him off.