We are always in need of volunteers! 
Begin by completing our volunteer application.  We'll follow up with a telephone call to see how your skills and interests might be a match for our needs.
Volunteering does not have to mean a large time commitment, and you do not have to live near the Sanctuary to become a volunteer.  There are many ways to help.
Areas of opportunities include:
animal care tasks like cleaning stalls and feeding animals (for volunteers near Kingman, AZ)
outreach activities like events and fundraisers
clerical tasks
data/website/social media activities
Please contact us if you need community service hours for school, church, or probation.
Thanks for considering volunteering to help us help the animals!
 Click Here to download a Volunteer Application
Note:  if your browser asks if you would like to open the form in Adobe Reader, click yes, otherwise your information may not save properly.
---
Ambassadors for Animals
Ambassadors needed! Are you an animal lover and the kind of person that loves to share your passion for animals? Do you enjoy talking, texting, emailing, using Facebook and Twitter? Then become an Ambassador for the Last Chance Ranch Sanctuary! You'll help us get the word out about the Sanctuary, the work we do, and how people can help. Simply contact us to get started. You'll be glad you did!
---
Garage Sale Hosts
You don't have to live in Kingman to be a Garage Sale host! You can do a sale in your own area and when it's convenient for you. Contact us if you'd like a Helpful Hints tips sheet, and to let us know when you'll be scheduling your sale.
These wonderful ladies got together and took it upon themselves to organize a garage sale to raise money for our 2013 Summer Matching Challenge! They had great support from the people in their neighborhood. In addition, Denise's yoga group kicked in $50. The grand total they raised: $535! Thank you so much!
---
Alice lives in New York but that didn't slow her down in hosting a sale to help the animals! She and her son Phil raised $225 for Our Gang! Thank you, Alice and Phil!
---
Bake Sale Hosts
The nice folks over in Meadview, Arizona, held a Halloween Cupcake Battle to benefit the Sanctuary, and raised over $250. How cool is that!  Thank you, you awesome people!
---
Volunteer pre-vet and pre-vet tech experience available!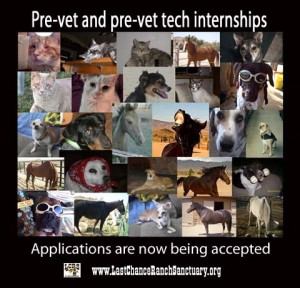 Veterinary programs have tough acceptance standards and require that you've shown a commitment to your future profession.  Let us help you gain valuable animal care experience at our Sanctuary.  You will have first-hand interaction with special needs and abused dogs, cats, and horses.
We require a minimum 4-week full-time commitment, additional weeks may be possible if scheduled in advance.  If you live in the Kingman, Arizona area, a part-time schedule can be arranged.
Duties:  You will participate in all aspects of running an animal sanctuary for special needs animals.  This can include, but not be limited to: cleaning stalls; watering, feeding, turning out and/or riding the horses; cleaning up after the dogs and cats; feeding the dogs and cats; exercising, playing with, and petting the dogs and cats; performing basic obedience training with the dogs; administering medications and applying wraps, bandages, and the like to the animals who need them; placing the dogs in/out of their wheelchairs; performing therapy tasks with the animals; taking or accompanying the animals to the vet; grounds maintenance and facility repairs/building; supply runs, and so on.
Schedule:  40 hours per week with two days off by mutual arrangement.  More hours are possible if desired.  You'll work from 6 – 10 am and 2:30 – 6:30 pm, subject to adjustment based on the needs of the animals and the weather.  You'll live on-site in a private room, share meal-prep and household duties, and pay for your food and utilities.
Set yourself apart from the crowd.  Contact us for more information and to get started – an application and telephone interview are required.
---
Recycle 4 Pets
Here's a quick and easy way to help!  No need to sign up as a volunteer!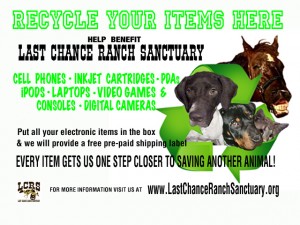 Recycle4Pets – simply collect electronic items, like used cell phones, PDAs, MP3s, inkjet cartridges, certain laser cartridges, iPods, laptops, video games & consoles, digital cameras, DVDs, GPS devices, calculators, eReaders/tablets/notebooks.    Print out this flyer and put it on your collection boxes.  Then once your box is full (around 40 pounds), contact us for your free pre-paid shipping label(s).  Put a collection box at home, school, work, church, community group – get your friends and families to help you help the animals!