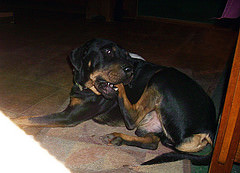 Does anyone subscribe to BirchBox? And if so, have you ever wished they had something like that for your prized pooch? Well they do and it's called BarkBox.
Here's how it works:
Choose your size of dog and BarkBox will customize your order for size appropriate goodies.
You can make your subscription monthly, 3-month or 6-month plans.
Fido's order will arrive the 15th of each month.
What items may be included?
treats
toys
hygiene products
Not only will your dog get some amazing goodies, other dogs will benefit from your purchase. BarkBox donates 10 percent of their proceeds to dogs in needs. In 2013 over $150 million was donated to entities such as city and county shelters, rescues, sanctuaries, and low cost spay and neuter programs.