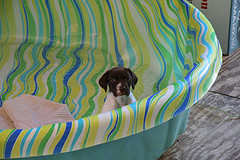 As summer approaches, you might be wondering how to let your dog have some fun in the water and still keep him safe/healthy. Here are some swimming tips for canines:
Don't leave your dog alone around a pool–keep your pool fenced in with a secure gate and don't leave any pets within the fenced in perimeter unattended.
Make sure your dog has a way to get out of the body of water he is swimming in
Expose your dog to water gradually. Exposure will keep him safe if you plan to spend some time around a body of water, but remember that not all dogs love the water.
Don't let your pets wander around rivers/lake shores alone. They will find dead fish and other potentially harmful things to eat.
Don't let your dog drink pool water–chlorine and other chemicals can cause gastric distress and other health problems.
On boats, make sure your dog wears a flotation device!
Stay cool and stay safe!
Source:
http://www.banfield.com/pet-health-resources/pet-health-concerns/pet-safety-tips/swimming-safety-tips