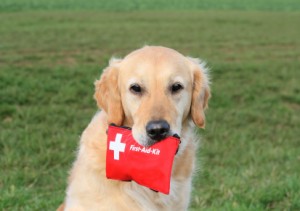 The U.S. Department of Homeland Security's Ready Campaign has designated September of each year as National Preparedness Month. It's a time to realize that disasters can strike out of the blue and to make plans so that we are prepared when they do occur. Noting that many pets are often left wanting or even left behind in these times of crisis, the American Humane Association has gone a step further and designated June as Pet Preparedness Month.
When the worst actually comes to pass (hurricane, flood, etc.), your chances of coming out of it intact are greatly increased if you have a plan. The same goes for your pets – don't leave them out of the plan. Here's what the experts say are the essentials for your pet in times of emergency:
Food (your pet's regular food)
Water
Leash and collar
Bowl(s)
Photo of your pet/ID and a photo of you with your pet
Medications your pet needs
Immunization/vet records (keep both updated)
Pet carrier
First Aid Kit
Contact list of pet-friendly hotels, veterinarians, American Red Cross, American Humane Association and out-of-town friends/family
Be prepared. We never know when disaster will strike, so take some time to gather up a bag of the above essentials and have a plan. Your pet will definitely thank you when the time comes.