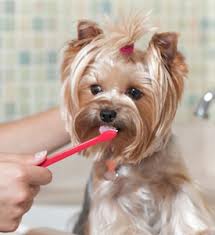 With so many problems in our modern lives waiting for attention, it's sometimes tempting to skip dealing with the little ones like maintaining good dental hygiene. Trips to the dentist and regular, conscientious tooth care are important factors in keeping our health in balance, but how often do we put them off or elect for quick and easy solutions (gargle, spit, rinse, done!)? And that's just us humans! What's your pet to do?
Dental hygiene is easily one of the most neglected areas of pet care today. True, our pets don't eat as much junk food and sugar as we do, but that doesn't mean they can get away without a periodic trip to the pet dentist. It's hard enough getting a full grown human being to make a dentist appointment, so don't expect Rover to do your work for you. It's up to us to make sure that our pets are as healthy as we can make them; don't let this one slide. Periodic checkups are important.
And that's the first step in taking your pet's dental health seriously: a trip to the veterinarian for a dental checkup.
If you're considering beginning dental hygiene treatments for your pet and he or she is already an adult, you should schedule an appointment with your vet first to determine the best course of action. Starting when your pets are young is going to be the easiest way to go, of course, but even older pets will benefit and they'll get used to the regular brushings soon enough.
Yes, they make toothbrushes for pets. Toothpaste, too, and it comes in different flavors. Won't you be jealous when Felix is getting his teeth brushed with poultry flavored toothpaste? Well, maybe not. But the animal formulated toothpastes are designed to make your job as caretaker as easy as possible. What cat could turn away from the smell of poultry, and what dog would turn his nose up at a beef-flavored tooth brushing? Check out this video from the American Veterinary Medical Association to
see how it's done
.
More next time…