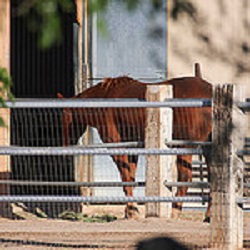 Adopting a horse is an immense responsibility, but it can be a rewarding and fun experience. If you're looking into adopting an equine companion, consider the following factors before jumping into a decision:
Monetary costs: boarding/ stable fees, veterinary care, dental care, and equipment such as saddles, blankets, and boots, are major financial commitments. Ask yourself if you can afford these extra expenses on a regular basis.
Time: Feeding and cleaning will take at least an hour each day. Other tasks–including hauling feed, barn repair, and winter maintenance—will take up even more time. Make sure you are willing and able to put the required time into caring for your horse and his environment.
Emotional factors: Because of the day-to-day hard work required to care for a horse, emotional commitment is extremely important for anyone assuming this kind of total responsibility. Otherwise, it's just a lot of hard work with limited payoff. If you are interested only in riding, consider looking into a stable or commercial riding school.
Check out these references for more info:
http://www.equinerescueleague.org/adopt.htm
http://www.petfinder.com/pet-adoption/other-pet-adoption/general-horse-care-guidelines/