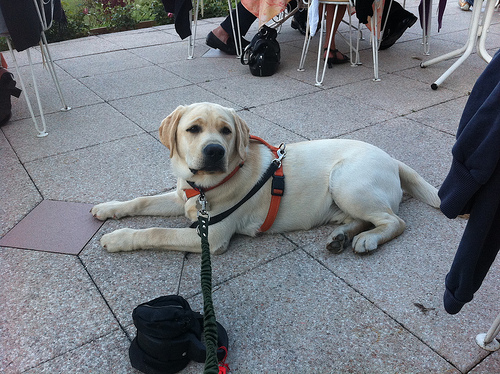 The idea of bringing your four-legged best friend to your favorite restaurant sounds like fun, doesn't it? But wait… does your favorite restaurant allow dogs? Make sure you know where your dog is allowed to go eat with you prior to going. Sites like dogfriendly.com make this task easier, however, and many establishments with outdoor dining will accommodate you upon request. Here are a few tips to make your dining experience less stressful.
• Make sure you have a well-exercised dog. A restless dog will not be a well-behaved one during dinner with all the distracting noise and smells wafting around him. Take him on a long walk or run so when you get to the restaurant he's ready to plop down and take a nap.
• Feed him before going to eat. If he's hungry, he is more likely to beg and/or make a scene. If he is already full, he will be infinitely less interested in eating everybody's food.
• Bring a water bowl. Not all restaurants will give water to your dog and he should always be able to stay well-hydrated – especially with the upcoming Summer looming.
• He should know basic commands. Sit, stay and come are necessities for being out in general and he should listen to them even when in a distracted situation.
• Keep him leashed. Even if you have the most well-behaved dog, don't take the chance that a trigger will set him off in a public situation. Also, make sure he is leashed to your chair and not the table to avoid any dining incidents.
All of this said, the ability to take Fido out with you for dinner is a great family bonding experience. Just make sure you and he are ready for any situation.