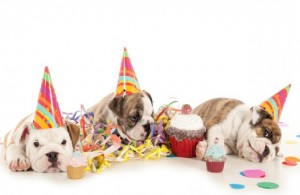 Birthday parties are always fun and pet birthday celebrations, even at a smaller scale, can be a fun time for you and your pet. Here are some neat ideas for a paw-fect pet birthday celebration:
Birthday Cake- There are now many bakeries that specialize in pet pastries. A healthy pet cake could be the perfect birthday celebration centerpiece.
Treat your pet to a new toy or new tasty treat.
Doggie Party- Have a small gathering with pets that are familiar and are on friendly terms with your birthday boy or girl.
Special Meal- Whip up some scrambled eggs and maybe a dollop of peanut butter to add to your pet's dog food.
How about an extra trip to a dog park one week?
Treat your dog to some agility equipment for the backyard.