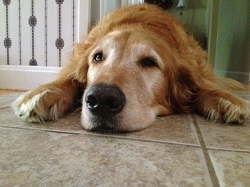 If you are anything like me, you probably love to snap pictures of your dog or cat. In fact, these photos may comprise most of those on your phone and on your Facebook wall or Instagram feed. Unlike people, however, most pets won't pause and smile for a picture; they will generally just keep playing or sleeping or eating or snuggling. Here are some tips to make the most of those moments when you feel like snapping a picture of your pet:
For the best appearance as well as the comfort of your pet, try to use natural lighting and turn off the flash.
Take a close up. Try a macro view of your pet's face, as this will show off his or her features and probably come out adorable.
Right before you're about to take a picture, have someone call your pet's name or whistle so that he/she looks up and assumes an alert posture.
Be patient and have fun. It can take some time and experimentation to get a really good picture.
Source: