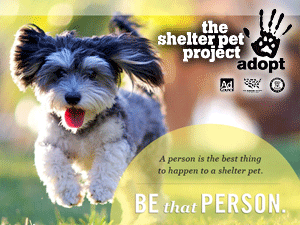 The Shelter Pet Project is an organization whose main goal is to ensure animal shelters are the first place people turn to when looking to adopt a pet. The motto embraced by The Shelter Pet Project is, "A person is the best thing to happen to a shelter pet. Be that person. Adopt."
Here's how they help:
Pet Search– Enter your zip code into the Search For A Pet section and a list of available cats and dogs for local shelters will pop up. You can click on a pet's image and it will take you to a page with a link to connect you to the pet's full profile and adoption information on Petfinder.com
Find a Shelter– The Find a Shelter section allows you to enter your zip code for a list of shelters near your home. You can see what animals are available at certain shelters and it also gives you an idea where you can volunteer if interested.
Learn About Pet Adoption– This informational section makes people more aware of shelters, how long an adoption process may take and the cost to adopt from a shelter.