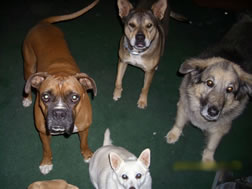 If you're reading this, then chances are that you're an animal lover, and you might already own one or more pets. But there are those of us who love animals and, for one reason or another, don't keep pets of their own. Maybe you don't have the time to adequately care for a new addition to the household. Or maybe you live in an area where owning a pet is either not allowed or would prove a considerable risk for the animal (e.g., near highly trafficked roads), or just plain inconvenient for you and your neighbors (e.g., you've always wanted a Great Dane, but live in a 600 sq.ft. apartment).
However, there may come a time when you're ready to throw up your hands and welcome a pet into your life. One of the most common ways to do this is to visit an animal shelter. Getting a pet for free from a friend or family member is great, but if you can't do this, then consider a shelter.
Be prepared to spend $100-$200 when you decide to adopt from a shelter. This money goes toward spaying/neutering your new pet, vaccinations, etc, so it's something you'd have to do anyhow. These organizations will sometime offer discounts to senior citizens and others, so keep your eyes open. Shelters (and rescue groups) are all about finding the right fit for each pet, so be sure to ask questions about the temperament of the animals you're considering.
In the end, you'll be investing in years of companionship as well as giving a deserving animal a new home.