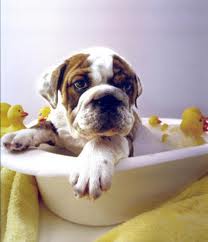 With all this talk of pet dental health recently, you might be wondering if you have the time for all of this extra work. If you're leaning towards "probably not," then you may be interested to know that pet groomers will usually offer a pet tooth brushing service for a reasonable fees. And that's not all, of course. Shampoos, both regular and medicated for flea and tick, are available. Trims, de-matting, nail clippings, ear cleanings and many more beauty processes for your pet are available.
Prices can be all over the place, and are based on the size of your pet, so be sure to shop around before you decide on a groomer. Generally speaking, expect to spend anywhere from $30 to $60 for a full service treatment with especially large or difficult pets costing more. A simple tooth brushing, however, will probably only set you back a few bucks if that's all you're looking for.
If you've got any dedicated pet stores in your area, this would be a good starting point for finding a reliable groomer. Some shops even offer services right on the premises, and if not, they can probably suggest someone to you.
Grooming isn't for every pet or pet owner, but if you're short on time, they can surely take some of the burden off you.