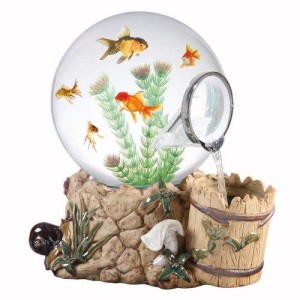 If you're looking for something to gauge a young one's dedication and responsibility when it comes to taking care of pets, why not try an aquarium? It's a good way build up to the level of attention that bigger animals like cats and dogs need. The feeding, cleaning, and balancing of the aquariums inhabitants and environment can foster an attitude of caring and show children the payoffs that can result from hard work.
A simple 5-gallon aquarium set, complete with just about everything you need except fish, can cost as little as $30-$40. And if you keep the fish simple, which is a good idea if you're just starting out (say, goldfish or guppies or tetras), then you're only looking at a few more bucks here. You can find aquariums as small as 1-gallon, or you might choose to go with the traditional bowl approach, but 5 through 10 gallons is probably plenty big enough for a first aquarium.
What you put inside of your aquarium is just as important as the habitat itself, so get the young one's involved in choosing the fish that they will be taking care of. As stated earlier, you should probably keep it simple at first; you don't want to overwhelm anyone with having to take care of picky or exotic fish their first time out. Goldfish, guppies, tetras, or even colorful betas are a nice mix of starter fish, but talk to your pet store associate for even more ideas.
Aquariums are good entry into the world of pets and the responsibility that is required in taking proper care of them. With a little attention, your fish can become a both a good learning tool and a pleasant corner of the house you can go to for relaxation.